May: Spring Cleaning, Fresh Fruit and New Ideas
I've been meaning to get back into some of the good habits I adopted last year and one of them is writing a monthly blog post about the things I've been up to. May is actually a really rubbish month to have chosen as I haven't led a particularly exciting life for a few weeks – everyone needs some down time 😉 – however good intentions only get you so far, and if I'm going to get writing again then the best time is of course now!
GDParrgh!
I'm sure we will all remember May 2018 as the time when we all got far too many emails about one dreaded subject. I've been on both sides of this with lots of emails coming in, but also needing to send a few out for Silicon Drinkabout. I wrote a blog about my frustrations and included details of my approach. Some people sent rude replies but plenty sent reassuring emails saying how much they enjoyed the newsletter and would definitely be staying in touch.
A number of people contacted me saying there is this or that loop hole and dangling the possibility of not losing the majority of my list in front of me. However… a large part of my ethos about life and business is that quality should remain victorious over quantity, and as such I welcome the opportunity to really re-connect with my readership and whilst that means fewer on the list, it should mean that those remain are highly engaged. I want to reward them for staying and as such have a new energy to find the best content, news and of course discounts and prizes for startup events. We gave away 4 tickets for both Decoded and Unbound this month, which were only available to subscribers 🙂 If you want to sign up you can do so here.
In May the garden exploded with strawberries – we were getting about 1kg a day for 10 days in a row. We enjoyed making a new friend, Irene, in Milan and I finished up-cylcing an old desk and creating a little work nook in our bedroom. What do you think?
Naming My Baby
For me 2017 was about proving I didn't need to have a "traditional" job and that I could freelance remotely, allowing me to go where I want, when I want. It went pretty well so I consider that box ticked! I worked with a number of interesting clients but there were definitely some gigs I did just to get paid. Copywriting and creating social media posts about things I don't care about, and getting paid a pittance (which goes quite far in Bali) was not the long term plan.
2018 is therefore the next step… to find out what I do really love to do and to do more of it. In April my business partner, Claudia, and I ran our first shared experience, MiPodere; a 1 week Italian retreat for 15 individuals, who had time to unwind, reflect and reconnect. Lots of great new friendships have come out of that and as the organisers we learnt a huge amount and have been able to fine tune plans for the future.
Whilst Claudia buggered off to the other side of the world (come back girl!) to run a startup event, I mulled over the experience of our pilot event and the conversations we had had since. I knew that we both enjoy building communities and that I am especially driven by the "micro community" built out of a short yet intensive period of time. This is reflected in my study of both theatre and events management where there is a finite goal and everyone pulls together to make the magic happen. Both Claudia and I love a good book, and performance; we share a desire for a balanced life and perfection for us is to be snuggled into an old leather sofa, by a roaring fire, glass of wine in hand enjoying the company of good people. Or just a labrador 🙂 We even went as far as to coin Mi Podere, "the Burgundy retreat". We felt our pilot was a great success but that the next iterations needed to be more of an experience, and less a holiday, for our guests. We wanted people to leave not only with new friends and feeling refreshed, but also having learnt something; a new skill, a different point of view, or most importantly, something about themselves.
There is also the challenge that events take a lot of time and energy to organise and the margins aren't huge, especially when starting out. So I started to think that the best way to quickly ground ourselves in this industry would be to share how passionate we are about it. What better than a regular newsletter, highlighting amazing residential experiences run by incredible people all over the world.
With all this to consider, a certain little bird kept metaphorically whispering in my ear. Travel, nest building, a friendly home away from home, a sense of purpose, great experiences, a newsletter, a community, burgundy, red…
During MiPodere we took our guests to a local restaurant called Il Petit Rosso – which translates as The Little Robin (of the red-breasted variety) but more literally as The Little Red. And that had planted a seed. And that seed grew and grew until I took notice and all my thinking and thoughts and conversations came together, and LittleRed blossomed into life. LittleRed Letters was the perfect sub-brand for the newsletter and after a few hours of fiddling around I had built this.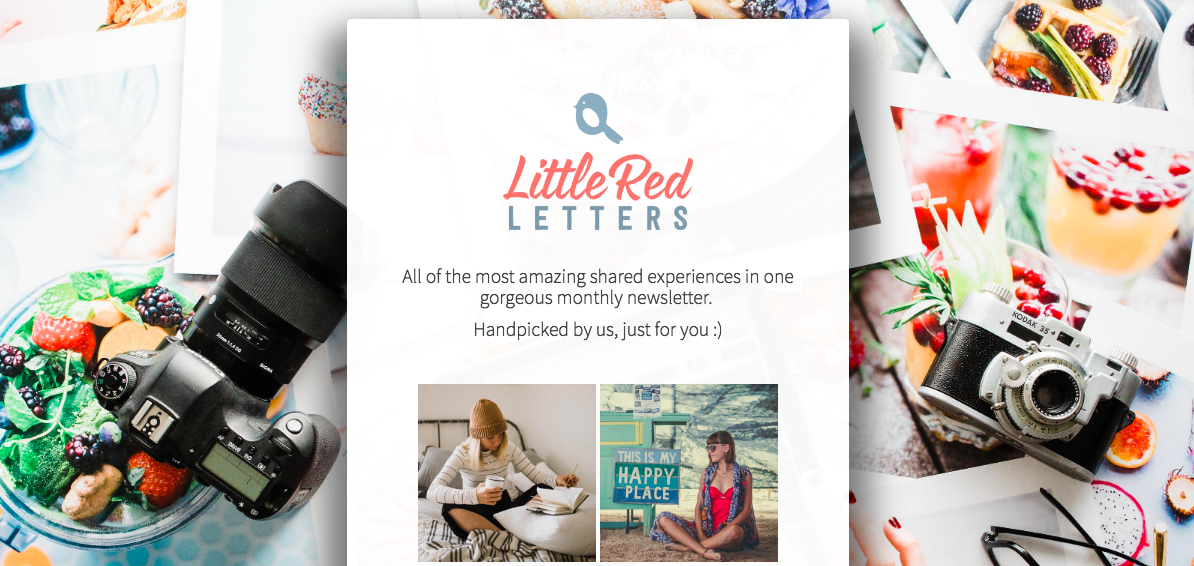 I used Carrd to make a simple landing page, Unsplash to find amazing images and Tailor Brands to make the perfect logo. I also created LittleRed as a company on Linkedin and updated my profile banner. Excuse the brag but it looks clean and professional and I love it 🙂 Can't wait to help my baby, LittleRed, grow!
Hiking in the nearby hills
In May the wonderful William Mercer came to stay with Manuel and I in Italy, before heading over to La Salle. He's a keen hiker so after a few false starts (terrible weather on the Saturday, car broke down on the Sunday morning) we made our way to Laveno-Mombello on Lake Maggiore. Whilst I've been in the gym two to three times a week since being back in Italy, it's a while since I hiked up any sort of incline. I stuck my ore in and huffing and puffing made it to the top of Sasso del Ferro just as the heavens opened, the thunder roared and the cracks of lightning we second to non!
There was a small cafe to shelter in which slowly filled up with damp walkers and families who had come up the "Funivia" (a sort of giant bean-can style chairlift) to enjoy the views. We ordered coffee and after admiring the density of the mist that had enveloped us, we settled into our books that we'd luckily thought to bring. All our phones were dead by this point but we knew that the last train home was fast approaching and that the only way down – on the Funivia – wasn't going to operate until the storm had passed.
Luckily it did eventually calm down enough for us to descended in tin cans, through soupy mist and drizzle (so much for the amazing views!) back towards the lake and rush to the train.
Right at the end of May I went to London… but that trip was more in June than May so you'll just have to wait.
____________________________________________________________
If you liked this then please feel free to share with friends,  follow me on Twitter and Instagram (and my foodstagram), and sign up below for news and competitions: 
May: Spring Cleaning, Fresh Fruit and New Ideas