This is where I have been most Friday nights for the last 3 years
Silicon Drinkabout is a weekly meet-up for the startup community to meet like-minded people, have some fun & relax at the end of the working week. The event started in London in 2011 and has grown to multiple cities around the world. When I joined 3beards in 2014, Silicon Drinkabout was the first thing I took under my wing and I now think it of it as my adopted child – someone else created it but it's my responsibility to support and nurture it on its way. For 3 years I took care of all logistics in London from booking & building relationships with venues, marketing, sourcing & co-ordinating volunteers. Now I work remotely and have taken full responsibility of Silicon Drinkabout as 3beards stops operating at the end of 2016. In the role of Global Community Manager I'll be on-boarding & supporting global organisers from around the world.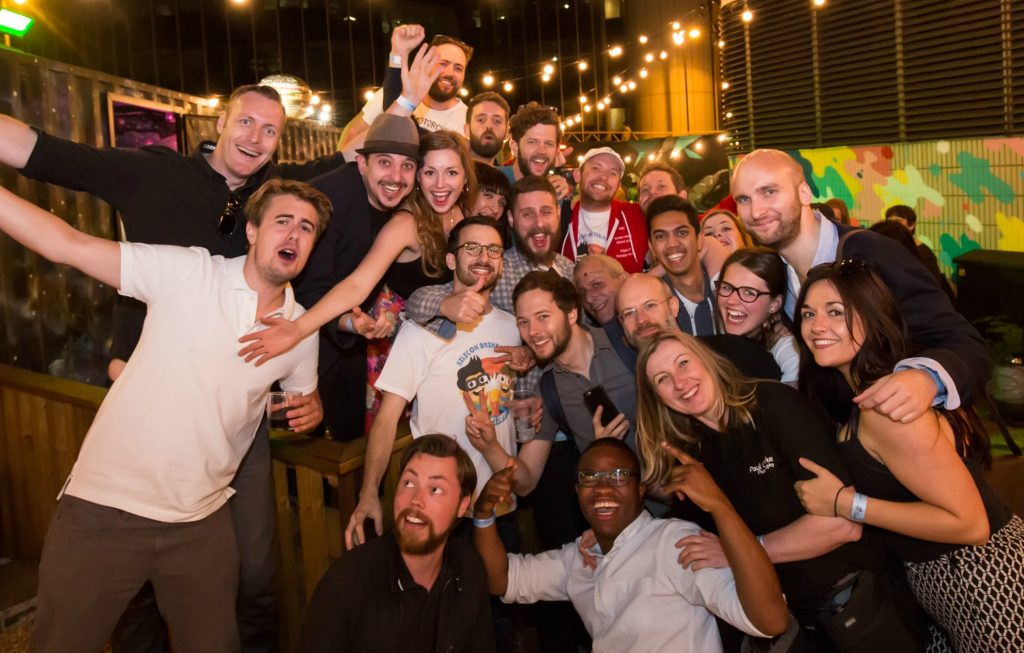 Silicon Drinkabout's 4th Birthday – 500 people on Old Street "Magic" Roundabout
I personally attended Silicon Drinkabout on a regular basis, long before I started running it, and I have met a huge number of fascinating, generous and wonderfully diverse people, all excited to do their own thing, in their own way. I got to know some of my now greatest friends at the event and have in turn invited some of my long-term friends along to get involved; it's a welcoming melting-pot and long may it continue.
Local
I might be bias but it's been said by plenty of others who aren't, that Silicon Drinkabout is the best event to attend if you're new to the London startup scene and want to get a foot in the door. It's held at a different venue each week – nearly always around Old Street/Shoreditch – there is very rarely the need to sign up and it's always free. You rock up, say hi to the people in branded t-shirts, they introduce you to lots of new people and you're away! You might just stay for a few drinks or find yourself walking home at 5am after a night of afterpartying, but either way it's difficult to leave without having had a handful of good conversations and having met some new people.
The regularity of the event – every Friday – means you can dip in and out and will usually find a familiar face to catch up with. The more you attend the better entrenched in the community you will become. Soon you find yourself meeting Drinkabouters at other events or even bumping into them in the street. Becoming a part of a community not only makes you feel great (I have friends, I fit in, I belong!) but it is also very useful. We avoid the term "networking" because it conjures up the image of awkwardly standing around poseur tables, drinking cheap wine and exchanging business cards with the soulless expression of a dead fish. In essence it is a networking event but with oodles of fun and authenticity.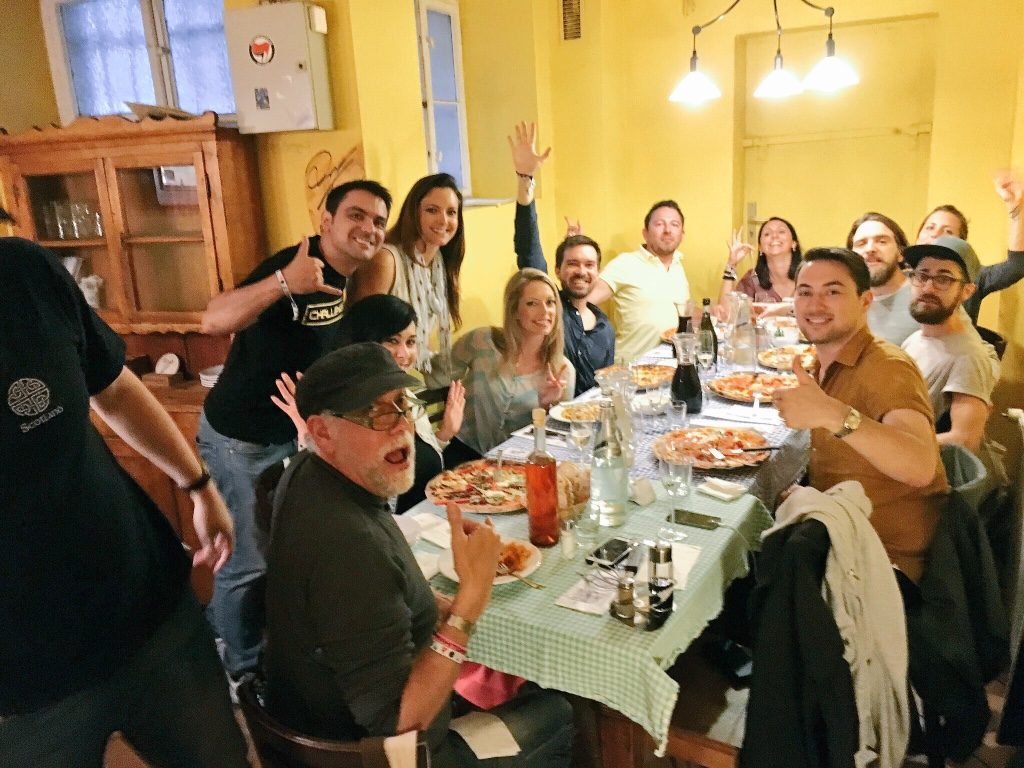 Global
Not long after Silicon Drinkabout really started to establish itself, visitors from far flung places began to approach 3beards and ask if they could replicate the event in their own city, to pull together their own startup communities. At one point there were Silicon Drinkabout events in as many as 21 cities around the world, all happening on a Friday night (with the exception of Dubai because Thursday is the end of their working week). In 2015 I decided that enough was enough! We simply had to get all of these fantastic community fire-starters together and hence the first Silicon Drinkabout Summit was born.
The amazing organisers in Sofia were also involved with running Digital-K, a two-day long startup conference, and kindly offered us free tickets, enough to cover a large percentage of the global organisers. In the end we had 18 organisers from 7 different countries who got to know each other at the conference, at the Summit Dinner and of course at the Silicon Drinkabout conference afterparty! You can read the Storify write-up I put together for more details.
I struggle to explain how exceptionally humbling it was to meet so many incredible people who in their own cities are responsible for multiple projects that support and celebrate their startup ecosystem. All of them are warm, compassionate, welcoming people that want to bring others together to create something bigger, and I can't thank them enough for all the hours and positive energy they put in.
One of the lovely organisers sent me this in an email.
"Vicky, you are the backbone of the 3beards organisation, the necessary ingredient so everything is completely smooth. I love each and every email, sent by you!"
Kind words like this make it all worth while 🙂