What's On The Menu in Frome #1 – Burgers, Burritos & Fish & Chips
Looking back at 2021, I realise my eating out habits in and around Frome have not been the healthiest! Lockdowns, babies and being new to town has meant when I have been able to eat out it needs to be comforting, fairly fast food and in an environment suitable for a buggy and the messy muncher that comes with it. However I'm not saying I've eaten badly by any means! Frome has got some now go-to favourites of mine, that you need to know about.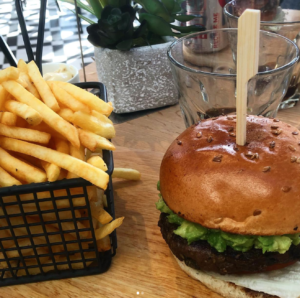 Burgers
Now anyone that knows me, knows that I'm pretty particular when it comes to a burger. I was spoilt by the legend that is Burger Bear in London and Bristol and now I struggle to find a burger that beats the Bear. I endeavour to do a whole blog on burgers once I've sampled a little more of what Somerset has to offer, but for now, if you want a really tasty burger in a funky diner with good vibes, you'll need to head out of the centre to the unlikely location of the Marsden Trading Estate.
Nestled amongst carpet fitters, couriers and car supplies of every nature, you'll find Tool and Gauge, a hipster haven of exposed aesthetics and diner style design. I first discovered this gem while hunting down takeaway. Now Frome is not a big city, and living in a village outside of it makes midweek takeouts more hassle than they are worth. Delivery options are almost zero and many places only do takeout at the weekends, or close fairly early evening. We find ourselves limited to bad pizza (my husband is Italian so almost all pizza is here is bad), Chinese which we just don't like, Indian, fish & chips or burgers. The Fox at Tytherington should get a mention here as their burgers are a delicious face full of meaty deliciousness (try the Black and Blue), however they aren't open every night of the week and during winter – when you are more in need comfort options than ever – they reduced their opening times further and so somewhat fell off our shortlist.
So back to Tool and Gauge… they have a wider menu than just burgers, but it is a little random. You can have a Moussaka or panfried seabass or cucumber noodles; am I wrong in wanting a menu which has some sort of identity? However when you get past the higgle piggle, you come to the burger menu which is full of variations on a traditional bun and patty. Head to the Moroccan burger, because it's lamb burger base is topped with aioli, smashed avo and a sweet chilli and red pepper sauce that make it just gorgeous! You can have regular or sweet potato fries and I'd recommend their garlic mayo. Now there is a catch on the fries… they don't travel well so if you're going to takeout rather than eat in, don't get your hopes up about the fries, they always arrive a bit soggy. Eat in however and they really have been cooked to perfection and the portion generously overflows the miniature presentation fry-basket. When I ate in, the burger bun was on the small side, making eating it a rather messy affair as it's gooey goodness spilled out onto my hands a bit, but for the next takeout experience the bun was bigger so perhaps they took on that feedback.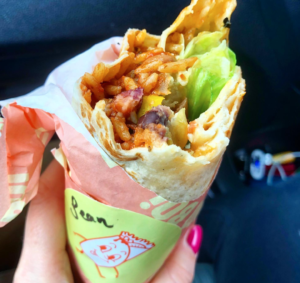 Burrito
Burger not your thing? Don't worry, Frome has you covered. Burrito Boi is tucked away near the station, alongside Rye Bakery, Lungi Babas and Hesperian Fish, but we'll get to them in a minute. As much as I love a burger, I also love a burrito and whilst I feel guilty for naming a massive chain over a more local offering, in London I championed Chipotle. It helped that we served them at the tech events I ran, so I often ate for free. Anyway enough about them, let's focus on Frome! I appreciate Burrito Boi for sticking to a Mexican themed menu and keeping it simple with burritos, naked burritos, sides, sauces and drinks. I've tried all 3 burrito fillings (beef, chicken or bean) and have never been disappointed, however here is a warning, unless you really like a bit of heat, don't be fooled into thinking a medium hot sauce might be a nice addition. The last burrito I had was wasted on me as I had to wash it down with a glass of milk to ease the burn. I can also highly recommend the buffalo & blue Mac 'n' Cheese balls… their staple is a jalepeno version, but again I can't handle the heat. I've never eaten in here but in nicer weather you can sit outside and they have a license so I can imagine enjoying a relaxed lunch or evening with friends here in the future.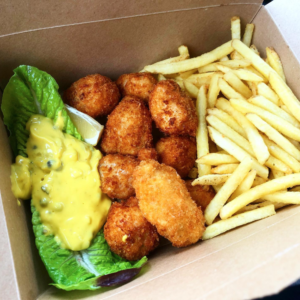 Fish & Chips
If a traditional big greasy Fish & Chips is what you're after then you'll have to come back another time, as I haven't been on the hunt for that yet; we only found Hesperian Fish because we were hunting down burritos, and Burrito Boi am I glad that we did! The brown paper box filled with scampi & french fries excelled on both texture and taste. What I think was a caper mayo, presented on a leaf of baby gem was the perfect accompaniment and elevated this lunch above expectations. Also extra points here as their chips stayed crispy even after I had to pause for an appointment and reopen the box a little while later. This really is a fancy fish & chips, but perhaps not surprising considering Hesperian isn't a bog-standard chippy. They have a well stocked fish counter and the eat-in/takeout menu focuses on seasonal and locally sourced ingredients. Last time we went we were a bit early and the kitchens weren't properly fired up yet, but I definitely need to get back here to see what else is on offer. Expect to see more on this blog about Hesperian in the future.
I hope you enjoyed this little tour around Frome and that you discovered a few places that don't always get the attention of those in the centre. I'm new here and love writing about food, so please check back for more What's On the Menu in Frome blogs. You can follow me on Instagram at The Tale of a Teaspoon and if you have any questions or recommendations for eateries I need to try, please comment below or get in touch.
What's On The Menu in Frome #1 – Burgers, Burritos & Fish & Chips